"Dawgs of The World Unite"
Monday, September 17, 2007
Sunday, September 16, 2007
Dawgs - Tide Kickoff Time Announced
The
ACJ is reporting
that the kickoff time for the Dawgs vs. Tide has been set for 7:45 and the game will be televised on ESPN. Let's hope the Dawgs can get their shit together before Saturday night…
The only real highlight from the WCU game: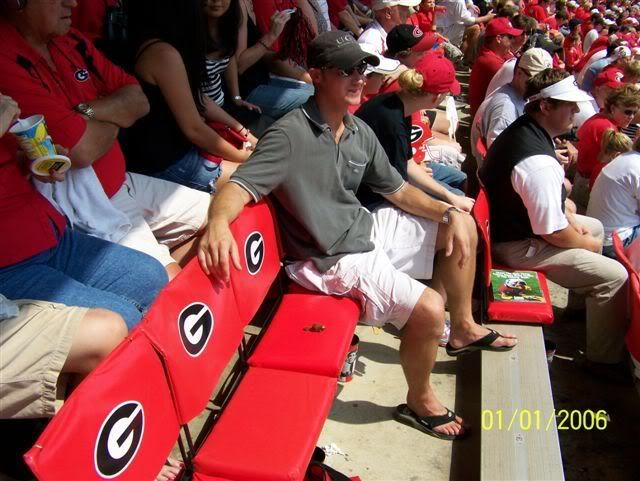 Jay's Beaver
What's better than a tight beaver shot?
Go Dawgs!
- E
Friday, September 14, 2007
Dawgs: 1 - 1
Sorry for the lack of posting but real life interrupted the past couple of weeks. So the Dawgs are 1-1; things could be worse. The Ok State game was impressive; the USC game was a mess. I've got confidence in Richt to get things back together and I seriously think Bobo will learn from his mistakes. Stafford has to sharpen up; the receivers need to make some catches, and the LB's need to toughen up. I thought the O-line did an "ok" job based on their youth and inexperience. This is a team that
should
get better as the season progresses. I thought the
GSB
summed it up nicely:
In spite of all the negative, we were still just 1 or 2 plays from winning the game. In my opinion, it's not a talent problem this season. It's a maturity / execution problem. We are exactly what Richt said we were preseason. A young, talented team that should be really good later in the season. The entire question is will they get experienced enough, fast enough to avoid falling into a hole early that's too big to climb out of later.
Despite the game, the DOTWU clan had a great tailgate on a beautiful day in Athens. No tailgate for us this weekend, and it looks like our next get together will be Sept. 29th for the Ole Miss game. Rumors are for a 9pm kick-off and I ask everyone to please keep their eye on Reich; he might piss on your bumper; he has been known to do that after 24-tall boys on a 9pm kickoff tailgate...
HAMMERED!
IN OTHER NEWS: Congrats to Mark and Lindsey & Jay & Soung Hi!!!